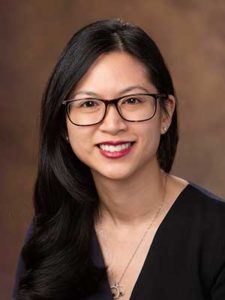 Dr. Christina Luong, Clinical Assistant Professor, is a recipient of the 2021 Vancouver Coastal Health Research Institute Investigator Awards for her work in the clinical application of artificial intelligence point of care ultrasound.
Vancouver Coastal Health Research Institute (VCHRI) promotes excellence in health research through the annual VCHRI Investigator Awards. These awards recognize outstanding health investigators and support their research efforts through peer-reviewed salary support awards. The awards provide an opportunity for investigators to reduce their clinical practice commitments and build their research capacity to expand the possibilities of improving health research. They are supported by VGH & UBC Hospital Foundation.
Dr. Luong's Project:
CAN ARTIFICIAL INTELLIGENCE COUPLED WITH ULTRASOUND IMAGING BE USED TO DETECT ABNORMAL HEART FUNCTION MORE RAPIDLY?
Heart failure is a condition that develops after the heart becomes damaged or weakened, and occurs when the heart is unable to pump blood as well as it should. While heart failure is typically regarded as a chronic condition, once it is diagnosed treatment plans can be made to help patients manage the condition. Early diagnosis can help patients stay out of hospital and live longer.
This project will allow for the development and testing of an artificial intelligence model that can be used to detect abnormal heart muscle motion using cardiac ultrasound data. The resulting application will be a program that works with existing point of care ultrasound devices to provide automatic estimates of heart function and will be tested by physicians as a part of routine clinical visits with patients admitted to hospital with heart failure.
"With this project we want to demonstrate the benefit of artificial intelligence enhanced cardiac ultrasound in the care of hospitalized heart failure patients," says Dr. Luong. "By enabling health care providers to perform cardiac ultrasounds at the bedside with the assistance of artificial intelligence, we could more rapidly identify abnormalities in the heart that can be treated."
"The heart function and wall motion scores that are provided by the application will be compared to those scores reported by the echocardiogram that patients will receive later, but we hypothesize that the artificial intelligence enhanced cardiac ultrasounds will perform with greater than 90 per cent accuracy."