Despite the challenges in 2020 brought forth by the pandemic, SportsCardiologyBC (SCBC) has been busy and has had a fruitful year. Here are the 2020 updates:
The SportsCardiologyBC (SCBC) team has continued to focus on improving health in the physically active community while keeping them safe.
F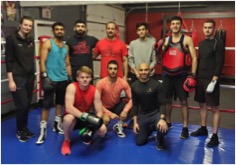 or the first part of the year, our team focused on first responder cardiac screening, young athletes cardiac screening and research. The SCBC team screened the following departments in January, February, and March: Campbell River Fire Department, Victoria Fire Department, Coquitlam Fire Department, and Port Moody Fire Department.
For the young athletes, we screened the Coquitlam Rebels Boxing Club and the St. George's Senior School athletes.
Unfortunately, all of our screening and research related activities were halted in March due to the concerns surrounding COVID-19. However, that did not stop the SportsCardiologyBC from contributing to the community. We received a generous chocolate donation and distributed them to various community outreach programs such as women's shelters, senior care homes, and youth centres throughout the lower mainland.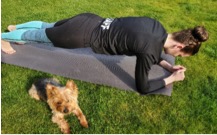 During this time, we also introduced the #PlanktheCurveChallenge on Facebook and Instagram to encourage physical activity during lockdown. For this challenge, we asked our followers to hold a plank for as long as they could and post a picture with their best time. In addition, we held online yoga classes for our research participants and the general public.
SCREENING:
In May 2020, the SportsCardiologyBC team started developing COVID-19 safety protocols to restart research and cardiac screening activities.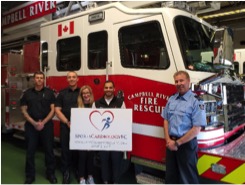 We were successful in returning to screening fire departments in late May. With new and safe protocols, the SCBC team screened the following departments: District of North Vancouver Fire Department, City of North Vancouver Fire Department, Saanich Fire Department, Sooke Fire Department, Port Alberni Fire Department, Surrey Fire Department, Oak Bay Fire Department, Esquimalt Fire Department, Vancouver Fire Department and West Vancouver Fire Department and Police. We returned to Nanaimo Fire Department for their second year of cardiac screening. We screened a total number of 1,555 participants.
Screening the Vancouver Police Department members will commence in December 2020.
The results of the study will not be published for the next few years, our preliminary findings have demonstrated undiagnosed hypertension, hypercholesterolemia, diabetes, and atrial arrhythmias amongst these tactical athletes. If any of these diagnoses are left untreated, they may cause stroke, heart attack, and even sudden cardiac death.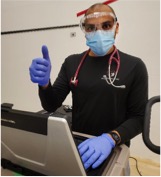 RESEARCH:
We are pleased to announce that we received approval from UBC Ethics and VCHRI (Vancouver Coastal Health Research Institute) to resume research activities as of November 2, 2020. The team is in the midst of finalizing COVID safety protocols for all research activities.
Masters Athlete Screening Study (MASS):
The Masters Athlete Screening Study (MASS) is in its fifth and final year. Preliminary analysis of the data suggests that annual screenings can identify 2 new diagnoses per 100 athletes screened, and a large fraction of athletes have undiagnosed and untreated cardiac risk factors such as high blood pressure and high cholesterol. Results from this pioneering study will be presented at the American College of Sports Medicine in 2021, and published thereafter.
The SportsCardiologyBC team just passed an extension to this study through ethics. This will allow the team to follow these participants for an additional 10 years by administering an online questionnaire five and ten years after their final screening. The study team will also have access to search for their vital status and cardiovascular procedures using large population and hospital databases. This will allow the team to determine the 10 and 15-year incidence of cardiovascular events and all-cause mortality in this well-defined cohort of masters athletes to better ascertain the effects of screening in terms of hard endpoints such as heart attack, stroke and sudden cardiac death.
Due to the success of the original MASS and gaps in the current research, the team will be conducting a new study (MASS LEGACY) in over 4000 Masters Athletes from multiple sports. This will be a randomized-controlled trial that will examine the utility of exercise stress testing as part of the screening process. Participants will be randomized to one of four protocols and followed for ten years to assess if inclusion of the stress test and screening for risk factors reduces heart attacks and deaths in this active population. If you are aware of anyone that wishes to participate in this study, please encourage them to reach out to the SCBC team.
Oral Magnesium supplementation in athletes with premature ventricular contraction or premature atrial contraction (Magnesium Study):

Magnesium is a vital mineral required by our bodies. It helps regulate normal muscle and heart function while also contributing to sleep quality. The levels of magnesium in our bodies fluctuate and can be affected by factors such as dietary intake, alcohol consumption and excessive sweating. Athletes are especially susceptible to low levels of body magnesium if they regularly participate in exercise or training that results in substantial perspiration.
Data suggests that low magnesium levels can be related to abnormal heart rhythms, and predict the development of future heart rhythm abnormalities (atrial fibrillation). In this study we are assessing the effect of supplemental magnesium on the reduction of heart arrhythmia and palpitations.
Hypertensive Response to Exercise (HRE):
In healthy individuals, systolic blood pressure (BP) increases in a stepwise manner with increasing exercise intensity. The increased systolic BP during exercise is largely due to increased cardiac output, which is generated to meet the increased demand for oxygenated blood in active muscular beds. However, some individuals present with abnormally exaggerated rise in systolic BP during exercise. This phenomenon is known as a hypertensive response to exercise (HRE) and is defined as a systolic BP of > 210 mm Hg for males and > 190 mm Hg for females.
HRE does not provide a diagnosis of hypertension but does increase the likelihood of developing hypertension in the future. Additionally, HRE can have a negative effect on the structure and function of the heart, making changes that can cause left ventricular hypertrophy and atrial enlargement or remodeling. This atrial remodeling can lead to atrial arrhythmias. Atrial fibrillation is the most common arrhythmia and increases the risk of stroke and systemic embolism. The purpose of this study is to determine if there is a link between HRE and atrial arrhythmias.
PUBLICATIONS:
The following publications were published by our team in 2020:
Masters Athlete Screening Study (MASS): Insights into the psychological impact of cardiovascular pre-participation screening
Clinical Journal of Sport Medicine
Morrison, B.N, Zwaiman, I., Isserow, S., Taunton, J., MacDonald, K., Cater, C., Velghe, J., Hirsch, A., Warburton, D., McKinney, J.
Do athletes play by different rules? Obstructive coronary artery disease in asymptomatic competitive Masters athletes: a case series
European Heart Journal
McKinney, J., Morrison, N., Phulka, J., Yeung, Isserow, S., Wood, D.
Visit our website at www.SportsCardiologyBC.org to read these publications and view our other resources.
INNOVATION:
SCBC team is researching new devices to assist our athletes and physically active individuals in detection of cardiac arrhythmias. In fact, SCBC is the first medical clinic in Canada to launch this novel technology. DR400 long term monitoring device was launched in August 2020. It can record cardiac rhythms for up to 30 days. To date we have monitored over 100 patients.
TEAM: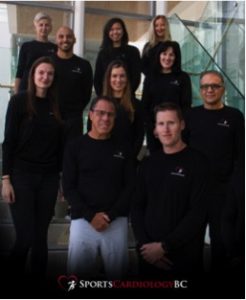 On the team front, we have grown to support all our initiatives. None of this would have been possible without our team members and volunteers!
We wish to thank you all for your generous donations. SportsCardiologyBC is where we are today because of your support.
Follow us on social media (Instagram, Facebook, Twitter, and LinkedIn) to stay up to date with our research and testing initiatives: @sportscardiobc