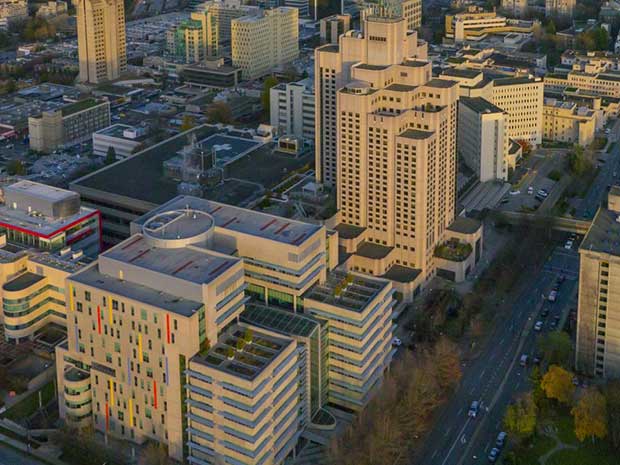 The Vancouver Coastal Health (VCH) Centre for Thoracic Aortic Disease (CTAD): serving patients across the continuum of disease management.
The VCH CTAD was established in 2010 by Dr. Michael Janusz with the goal to provide comprehensive, quality and timely care to individuals with thoracic aortic disease. The CTAD assists patients and their family members to gain the appropriate information to make educated and independent decisions related to their surgical options and the overall management of their disease. As a Provincial referral centre for patients with thoracic aortic disease, the centre provides comprehensive assessment, diagnosis, treatment, surveillance, and education to patients and their families.
Currently, the CTAD has upwards of 1500 active and virtual surveillance patients. Comprehensive management of thoracic aortic disease requires ongoing collaboration between health care providers. As such, the CTAD is a multidisciplinary clinic of cardiac surgeons, cardiologists specializing in thoracic aortic disease management, nurses, interventional radiologists and vascular surgeons. The entire spectrum of therapy, from fully endovascular to complex open surgery is available to our patients. Collaboration at the CTAD is further exemplified at the monthly TEVAR rounds where the province's tertiary hospitals participate in discussions regarding management of complex aortic patients. Dr. Joel Price, Dr. Mike Janusz and Dr. Jason Faulds routinely see patients in the clinic.
If you would like to refer a patient to our clinic, please contact the clinic at 604-875-4553 for details and/or fax referrals to 604-875-5806. Referrals are regularly by triaged by our cardiac surgeons.
Phone: 604-875-4553
Fax this completed regional referral form to: 604-875-5806
Vancouver General Hospital Gordon and Leslie Diamond Health Care Centre
2775 Laurel Street, 9th floor
Vancouver, BC
V5Z 1M9
If you see this Google Maps wasn't properly loaded. Please refresh your page 🙂